How to Use
Rent Bicycle
One Time User/Monthly User

Member Plans

Payment with credit card
One Day Pass

Non-member Plans

Cash/credit card payment
[One Time User/Monthly User] is perfect for people who want to use bicycle repeatedly, together with other public transportations.
[One Day Pass] is recommended for people who want to ride bicycle without worrying about time limit.
Return bicycle
Please return bicycle to the nearest
Machi-nori port
1

Insert bicycle into the rack

2

Lock the bicycle and press "ENTER"

Please make sure to press 「ENTER」 when return the bicycle. Bicycle is not properly returned if the 「ENTER」 is not pressed.
Temporary Parking
(except Machi-nori port)
Manually lock the bicycle (slide down the orange button)

Repeat the renting process
Please take note of the following
things when parking
Please make sure to return bicycle to the port after using.
Please park at the parking spots, avoid parking at the No Park Zone at any costs.
How to use a power-assist bicycle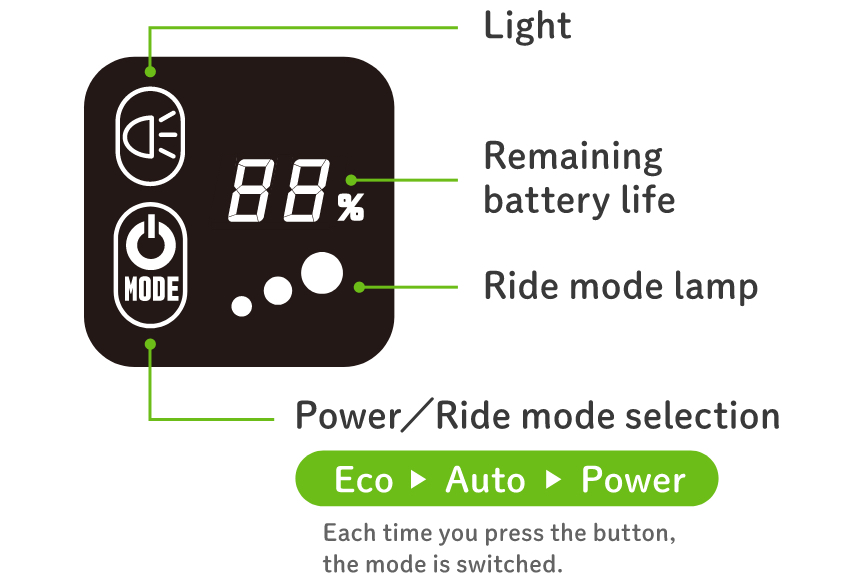 Electric assist power button is on the left side of a bicycle handlebar.
Press the power button and check the battery level before using it.
Please wait a few seconds without turning the pedals. The electric motor runs from the moment you press the power button, so please be careful when you start pedaling.